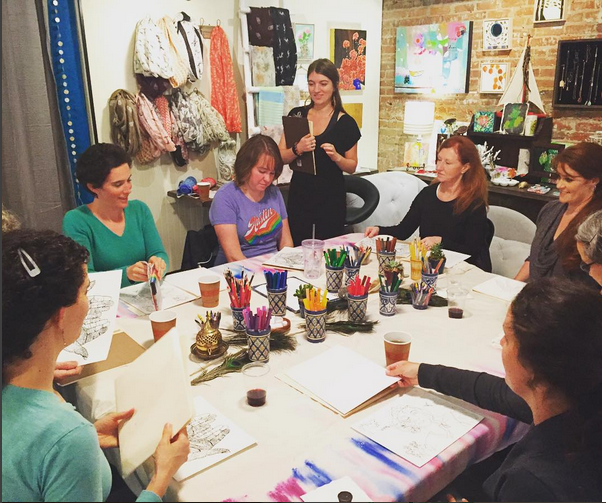 Coloring for adults is making headlines these days. For me, I have found a love in coloring and also creating coloring templates. This is a new love, because a while ago I completely abandoned coloring because I didn't like staying in the lines.
I still don't stay in the lines, but my rebellious nature doesn't hinder me from going for it and getting messy.
A few nights ago, I held a coloring meditation circle. I am still absorbing the bounty and vulnerability that each woman brought to the group. Coloring together is not only fun, it brings about a collective energy of support, healing, and acceptance of where you are.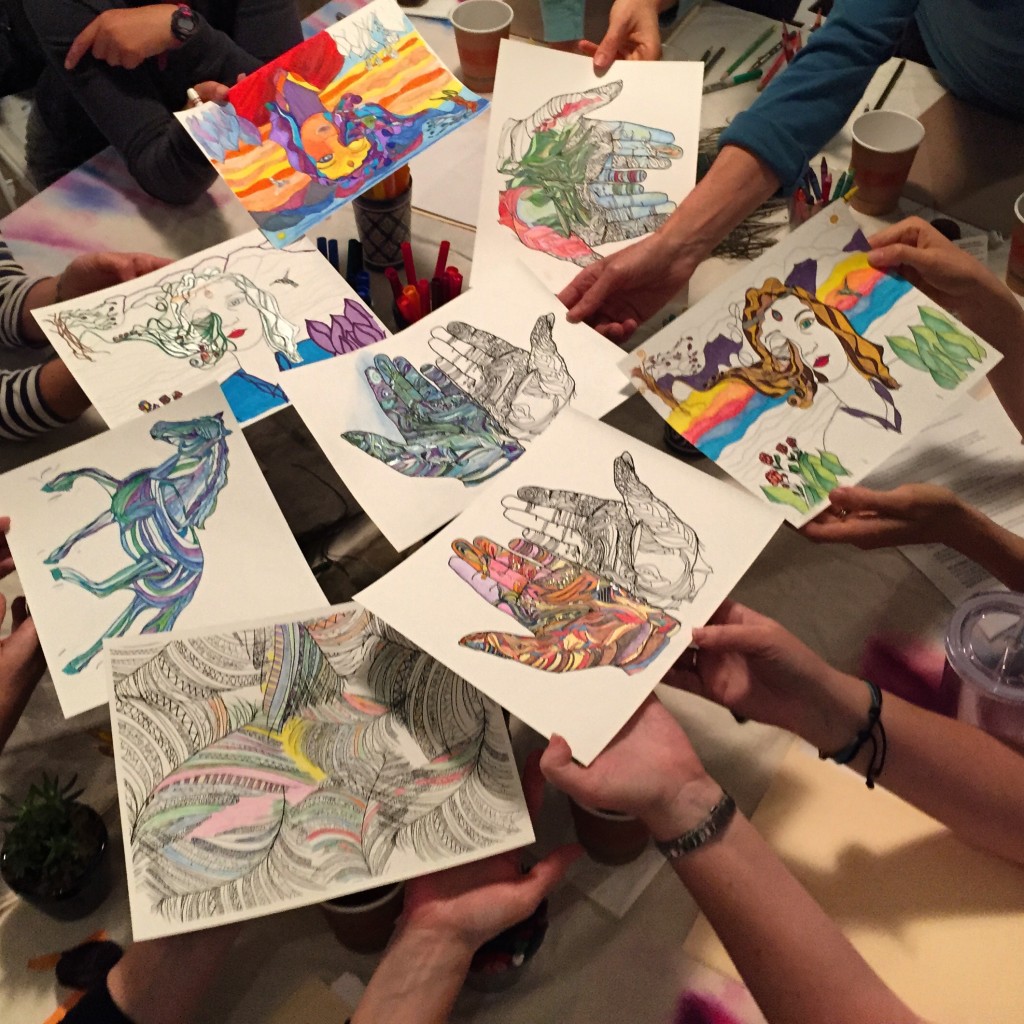 I hope you can find someone or many others to color with in your days.
Here are some tips to get you coloring right now! 
Create a ritual
A ritual is an action or behavior that you do routinely to ground you into your present moment. Rituals can be simple or complex, I personally like to keep it simple. My favorite ritual before creating is to clear and un-clutter my workspace. Other rituals can be lighting a candle, saying a prayer, listening to music, or wearing a favorite piece of jewelry or clothing.
Love your tools
It's always encouraging to have nice tools to work with for all your creative endeavors. Here are a few of my suggestions for coloring:
Colored pencils: colored pencils are versatile and easy to use. A really sharp colored pencil can color in the fine details of a more complex template. Different brands of colored pencils have different qualities, some are more soft and waxy than others. Try a few types to see which ones you like. Colored pencils are also good for shading and blending two colors together.
Markers: Whether you use fine tip or broad tip, markers give a satisfaction to coloring like no other. These opaque colors are great for creating a bold piece. Be careful with thin coloring paper when using markers, as your markers may bleed through the paper (you can always slide a sheet of paper underneath your coloring template to protect your drawing surface).
Crayons: An old school coloring tool + a personal favorite of mine. Crayons yield nicely, giving a smooth overall texture. Not the best choice for coloring in fine details, but crayons are a great choice for engaging your inner child!
Glitter markers or glitter roller ball pens: It's fun to use these mediums to adorn your coloring. A little bit can go a long way with glitter markers, or if you want to invest in a pack you can make a full on shimmering coloring piece!
Set intention (and a timer)
A large part of making a creative practice rewarding is to set an intention. An intention could be: I desire to be present with myself during this time, or I want to feel courage to follow my creative dreams. You can write this intention on a post-it note or even on the back of your coloring print. And, set a timer for 15 or 30 minutes to help motivate you to stick with a certain amount of time for yourself and coloring, every day!

No matter where you are, or who you are with, I hope you find a practice of embracing the color that is your life ~
R o s e
PS, check out my coloring templates that you can have delivered to your doorstep here.
3 tips to get you coloring