A true lesson on throwing away my old paint brushes
As I am wrapping up this year, as I have finished my custom orders and attended my last birth, I am feeling reflective.
The other day I reflective in a real weepy, unsure, a bit scared way.
I keep saying to myself: I am where I am.
If you've been with me on this blog for a while, then you know my musings on my life change. If you are new here, or need a recap: in 2014 I stepped fully into my art business. No more part time other work for me. It's just me, my paint brush, and my seemingly endless ideas on how to bring beauty into your life. I'm not just doing my creating at the end of my work day. This art making is my life.
This journey of change in lifestyle hasn't been easy. In all transparency, my business is not steady yet. I've put a lot of investment–time and money, into making this work for me, and sometimes I am wildly confused of the path I am on. I have felt ashamed of my lack of seeming success, I have nastily compared myself to others, I have wanted to run far far far away. But I haven't, because these fear moments aren't real, so I find ways to keep myself going. I don't want to disappear.
What keeps me motivated are the small things in my life: being able to see my husband a lot, showing up for my friends and family when they need me, no more chronic headaches, having time to clean my home, and being able to throw out old paintbrushes.

Yes, to be able to throw out old paint brushes keeps me evolving, and here is how…
Throwing out my old paint brushes feels like a process. If you use paint brushes, maybe you agree with that sentiment. For some reason I think I can save those dried up old paint brushes. It's as if I will reverse the damage done to them via my neglect by wishing it away. I get a bit upset with myself in the throwing out paint brushes, filled with questions like why didn't I take better care of these brushes float around in my head.
But the simple fact at hand is that those paint brushes are nasty. N A S T Y. They aren't able to be used anymore. Their function of sitting there on my shelf just is to remind me of how I forgot to rinse my brushes out. They aren't even really paint brushes anymore.
So, I throw them out, knowing I can and will get new ones. I throw them out knowing that I will have more paint brushes. I throw them out knowing that this is just the beginning of me figuring out how to care for my art like it's mine.
Those paintbrushes are like my business life right now. Maybe I have some plans for my business that are old, cracked, and dried up. I need to forgive my mistakes, throw out the failed ideas, and evolve.
You see, being where you are is true freedom. There is no reasoning of going back in time in your mind to fix a present issue (like old nasty paintbrushes). Time keeps giving us the present because you are given the choice: take action or disappear. To be where you are is true freedom.
I let go because I know that a greater birth is coming forth from that which I let go.
To accept the things you can't change is true freedom. And from that freedom you can evolve, grow, and be better.
I love this quote by the late Tupac Shakur:
"I want to grow. I want to be better. You Grow. We all grow. We're made to grow. You either evolve or you disappear."
So now you: what is holding you back from being able to throw away your old paint brushes? What is one step you can take to evolve into your best self? Comment below and speak yo' mind!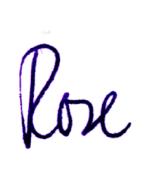 PS ~ here is my big EVOLVE announcement: I am sticking with my name Rose Candela to identify my business and life.  You may see some differences with my online name presence, but that's all the big change that is taking place. I'm still Rose, madly in love with my husband, still creating all day, and still inviting you to experience beauty. This decision was deeply personal and private, but you're part of my life and I want to make it clear to you.  So, here I invite you in, and to join me in this next chapter of my creations. I WILL be sending you some helpful links to stay in touch with me online via my newsletter next week. Please sign up here if you haven't already: Rose Candela newsletter.
Are you going to evolve or disappear?